Country midi-Bus
Details

Category: Buses
Hits: 3109
Hyundai County Midi Bus
 Hyundai Motor Company
www.hyundai.com
GEN. LHD 1208 ENG
Copyright © 2012 Hyundai Motor Company. All Rights Reserved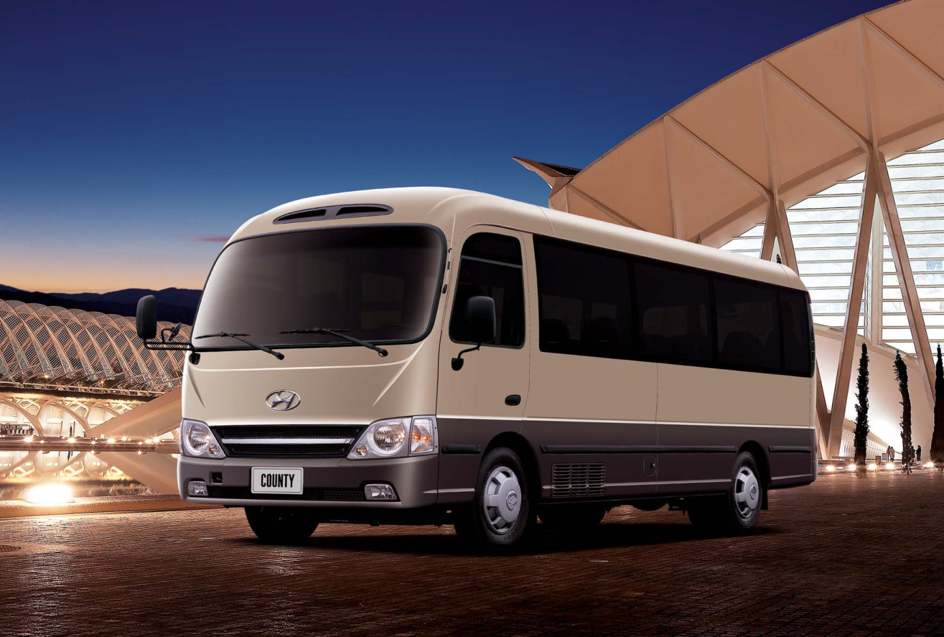 People's expectation toward individual mobility requires more than just a convenient means of transportation. The old understanding of cars has become outdated. A car represents individuals' lifestyles, and it became an integral part of their lives. At the same time, the automobile industry has experienced seismic change. Hyundai Motor Company has grown rapidly to become one of the largest automakers, backed by world class production capability and superior quality. We have now reached a point where we need a qualitative approach to bring bigger ideas and relevant solutions to our customers. This is an opportunity to move forward and we have developed a new brand slogan that encapsulates our willingness to take a big leap. Led by our new slogan and the new thinking underlying it, we will become a company that keeps challenging itself to unlock new possibilities for people and the planet.
---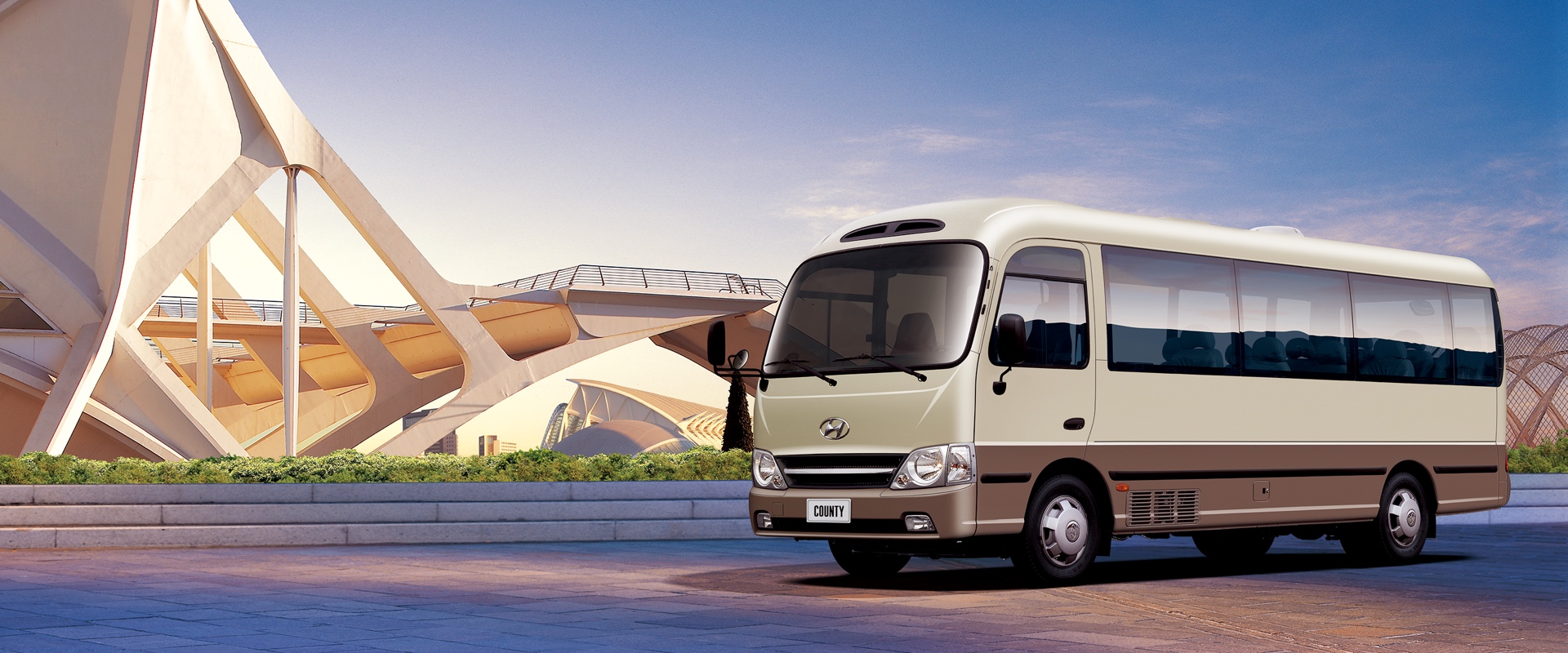 A Coach with a Passion for Travel.
Its dimensions are small but where looks are concerned it numbers among the greats. And it offers maximum comfort for your passengers.
It's the County. The smooth outer shell with its flush panoramic windows is practically easy to clean and maintain. Further, practical and functional outside mirrors ensure excellent all-round vision. In short, County is impressive in every respect.
---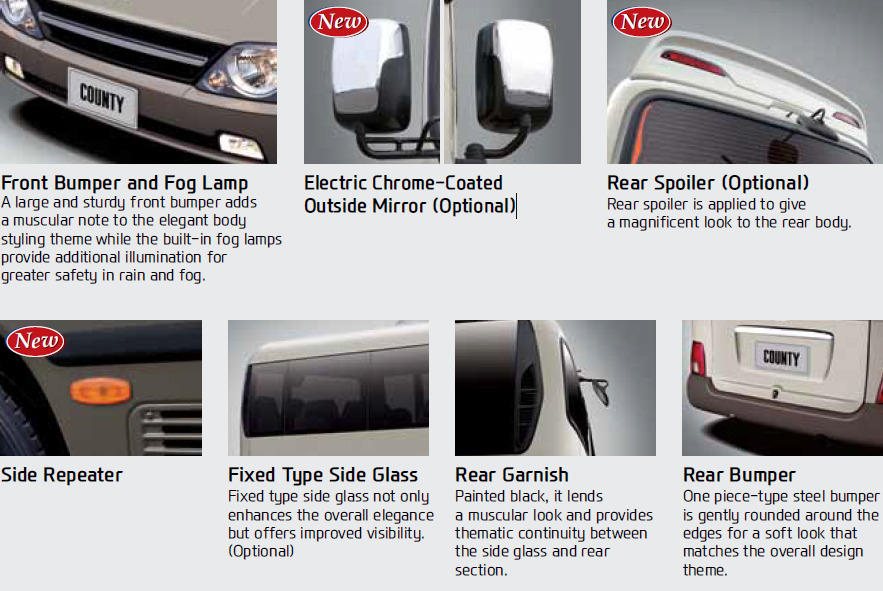 S T Y L I N G
The Bus of the Future is Now Here Futuristic and unique, the County styling beautifully harmonizes with its practical personality. Rounded edges and flush fitting surfaces contribute to a clean, simple image
---
Human - Oriented Hyundai Design 
---
ENGINE
Capacity (Displacement)  : 3,907cc,D4DC ,Diesel
Type   : Naturally Aspirated
Max. Power  : 120ps/3,200RPM
No. of  Cylinders  : 4In-Line
Torque     : 30kg.m/2,000rpm
  DIMENSIONS
Transmission    : 5 speed forward &1 Reverse,
Tire     : 7.50R 16-12pr
Wheel Base                   : 4,085mm
Overall length      : 7,080mm
Over all width      : 2,035mm
Over all Height                : 2,630-2,755mm
Turning Radius  : 6.2 meter
Fuel Tank Capacity  : 95 liters
EQUIPPED WITH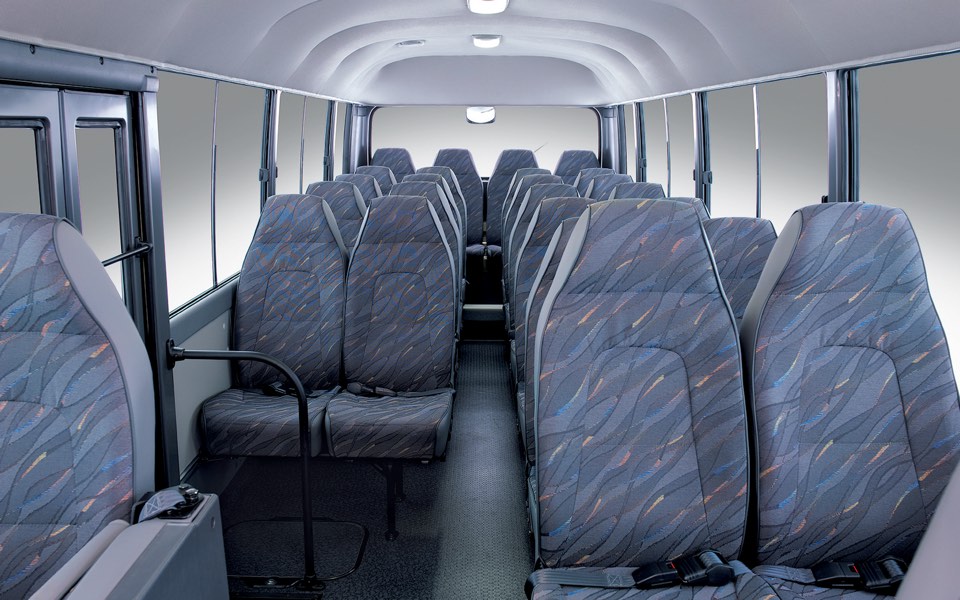 Air Conditioning
Audio (Radio + Aux.)
Folding Middle Passenger Door
Dual Sun Visor
Sliding Tinted Glass
Side Mirrors
Digital Clock
Cigarette Lighter
Glove Box
Front Fog Lamp
Front Heater
Seat Belts
---
Download Brousher for Detaile Secitication